Welcome to
Sanmann Kennels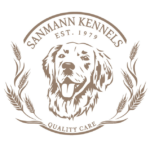 Founded by Sue and Eric Petermann in 1979, Sanmann Kennels is a family owned & operated business that is dedicated to the trustworthy care of your dog.
                     Welcome to
Sanmann Kennels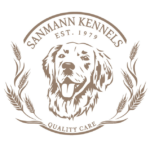 Founded by Sue and Eric Petermann in 1979, Sanmann Kennels is a family owned & operated business that is dedicated to the trustworthy care of your dog.






What WE Do
Quality Care for Your Dog
Founded by Sue and Eric Petermann in 1979, Sanmann Kennels is a family-owned and operated business dedicated to breeding and exhibiting the highest quality Golden Retrievers. With bloodlines going back to the 1960's, our dogs have distinguished themselves in the show ring as well as in obedience trials; earning many American Kennel Club (AKC) titles. Most importantly, our puppies provide true companionship for their families. 

Boarding
Our facilities are fully heated and air conditioned. We have both indoor and outdoor runs with a spacious indoor play / training room and large fenced outdoor exercise areas. Kennel tours are available.

Bathing
Bathing is available to boarding dogs prior to departture for an additional fee. Baths are only available if staffing permits. Bathing includes: bath, nail trim, & brushing. For furter requests, please speak with us.

Training
Susan Petermann, an AKC Judge and professional owner/breeder/handler teaches show handling classes. Sue has been successfully breeding and showing Golden Retrievers since 1969.
A well trained dog is a happy dog!
How Do You Know If You Need Kenneling or Training?
Most of these areas breakdown to your lifestyle. If you and your family or friends enjoy traveling, our quality dog care options can fulfill the security, safety, and individualized care you are seeking. We take pride in our expertise. ensuring the premier care of your four-legged best friend. Our expert staff also focuses in training and grooming options when needed.
More Info
Our most trusted attribute is our dedication to ensuring top-quality care of your beloved pet. We even take the time to do an initial consultation to make sure that the partnership is something you and your dog are comfortable with. Our staff and expert services make sure your dog receives the care they deserve.
Clean Kenneling & Boarding
More Info
Having your dog kept in a clean environment and boarded in a safe place is great! The cleanliness is always a plus. It also keeps your dogs safe and healthy. A premier kenneling experience is always our goal! Talk to one of our kenneling experts today.
Essential Training Classes
More Info
Training your dog is a responsibility for every dog owner. A well behaved dog is a happy dog. Having the ability to have your dog listen to simple commands is something that builds trust and a bond. The ability to have your dog act appropriately in public is an essential and earned accolade that truly pays off!
Dedicated to the personal & quality care of your dog
Serving Your Local Area
Interested In A Puppy?
Are you or your family interested in a Sanmann puppy?! Be sure that you contact us to gain further information. This is an exciting time! It is a huge responsibility owning a a dog and we take all of our puppy placements seriously to give them loving forever homes. We breed very infrequently and usually there is a waiting list. We also provide boarding and grooming services, specializing in Goldens. Make sure to call early for reservations, we only accept a limited number of dogs so that we can give them the individual attention that they love.
About Goldens
It's not surprising that Golden Retrievers are one of the most popular dog breeds in the United States. Along with being intelligent and having an 'eager to please attitude' — Goldens are exuberant, friendly, strong dogs, and hard workers.
Golden Personality
They are good at whatever they do, be it hunting, serving as guide dogs, working search-and-rescue, or being devoted companions. Though they are serious about their work, they also enjoy being downright silly! 

"Amazing Kennel Facilities"
Leaving your dog at Sanmann Kennels is a dream come true! They treat all the dogs that stay there like family…
Read the full review.
"A Great Kennel For Dogs"
My chocolate lab has stayed at Sanmann on three different occasions and has always left happy and well adjusted…
Read the full review.
Contact Us
Serving Your Local Area
Hours
Mon.—Fri. 8am to 12pm & 4pm to 6pm
Mon.—Fri. (Closed Noon to 4pm)
Sat. 8am to 12pm
Sun. Closed